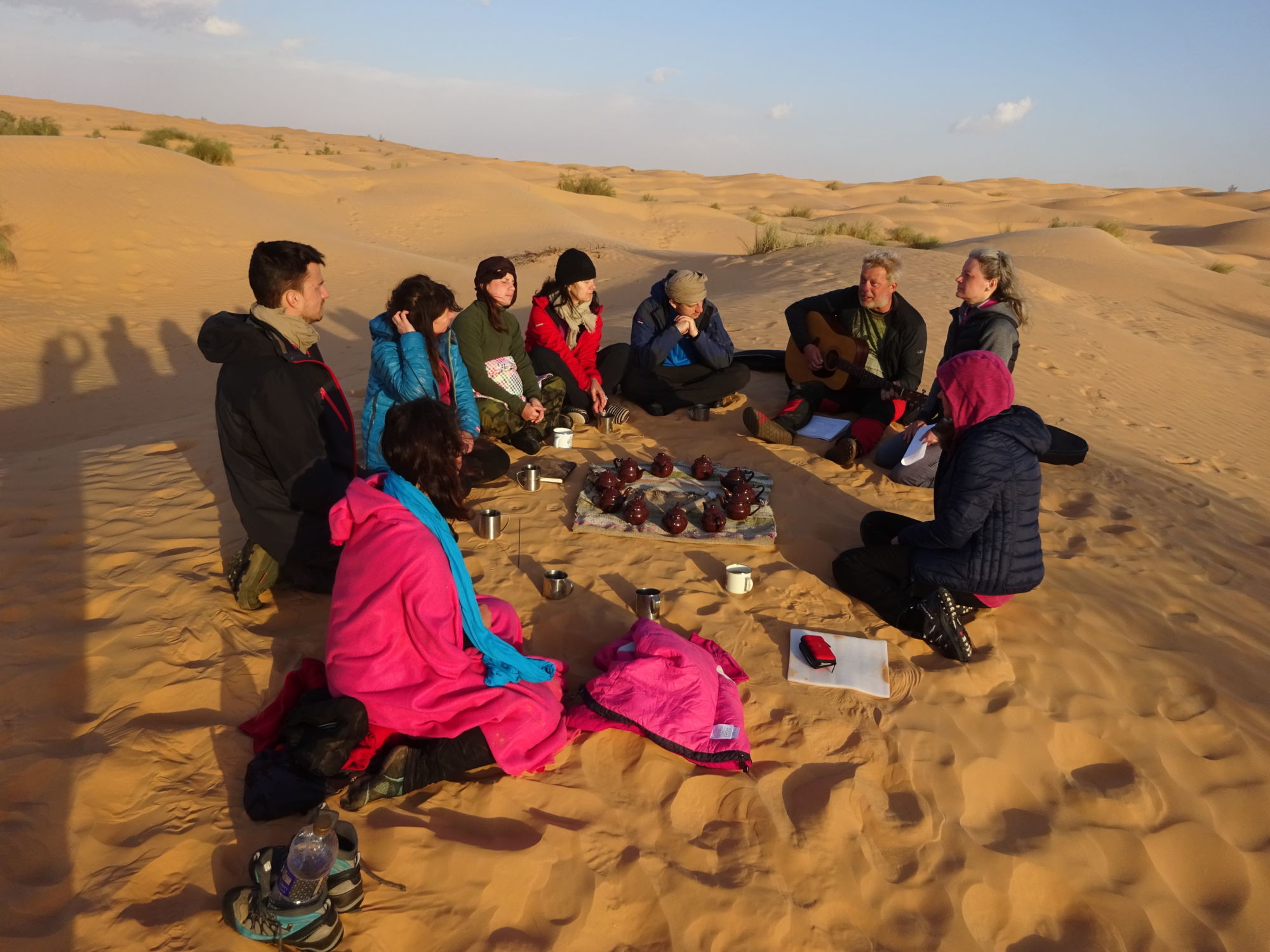 Sahara Soul Quest
in English
We will set out on a journey through the Sahara Desert in November 2022 with a mixed group of English-speaking men and women. It will be a journey to seek authenticity and vision for the next stage of our lives. It will be a journey to explore and embrace innocence, joy, and living. It will be a journey into the Mystery that knows what is right for us far better than we do...
The greatest task for us pilgrims is not to stand in the way of the Mystery, but to allow ourselves to be led by it. When we walk on the sand, we are open and perceptive to everything that should happen. Each and every pilgrimage is therefore a singular, once-in-a-lifetime experience we share with a unique group of people.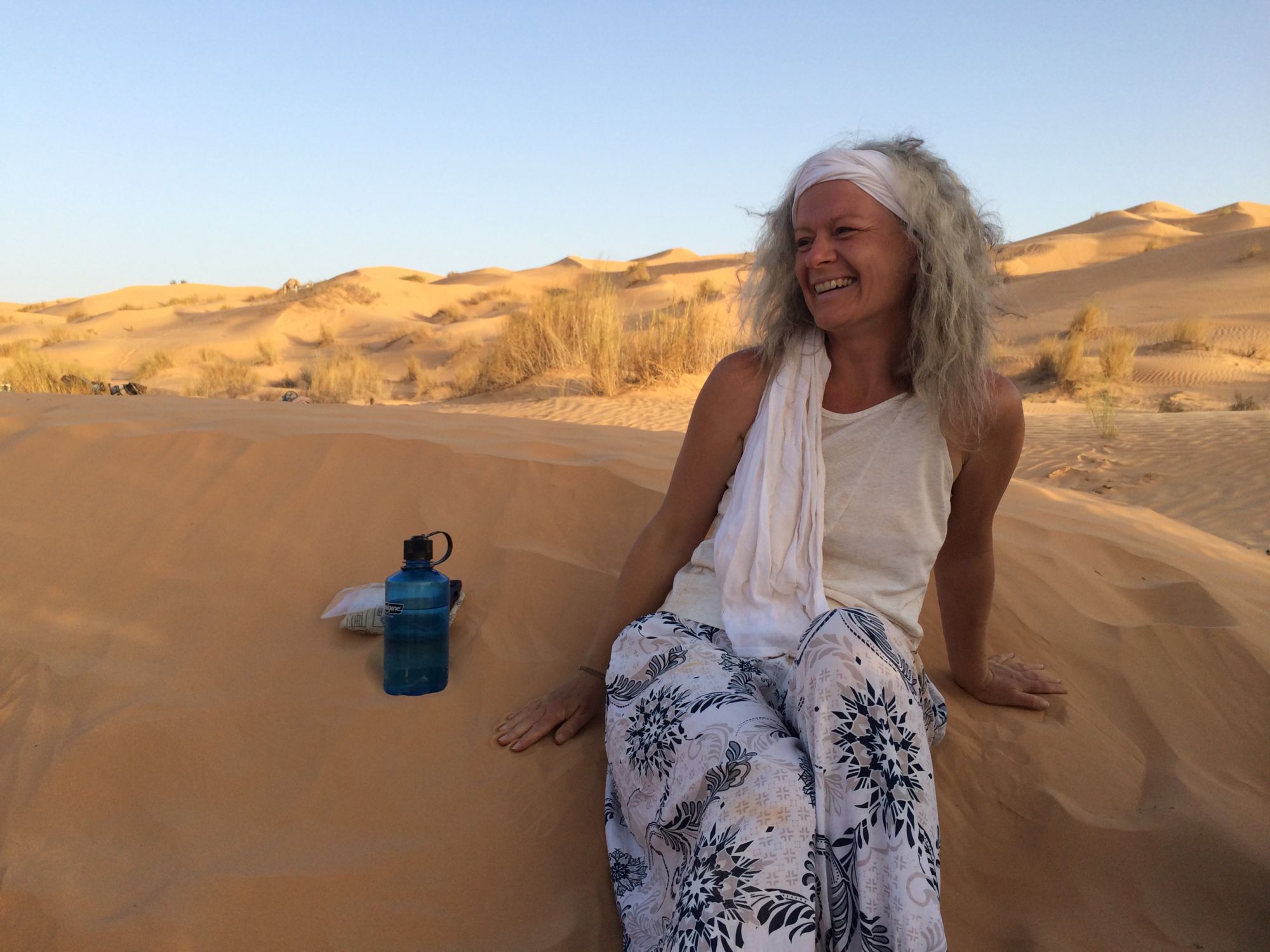 The magical desert, hand in hand with experienced, sensitive guides will guarantee you one thing:
Life will never be the same again.
The desert provides us with a huge dose of inspiration, space, and safety where we can dive deep into ourselves. Over two weeks, you will discover and process many of your dark places, wounds, and resources while discovering your inner truth.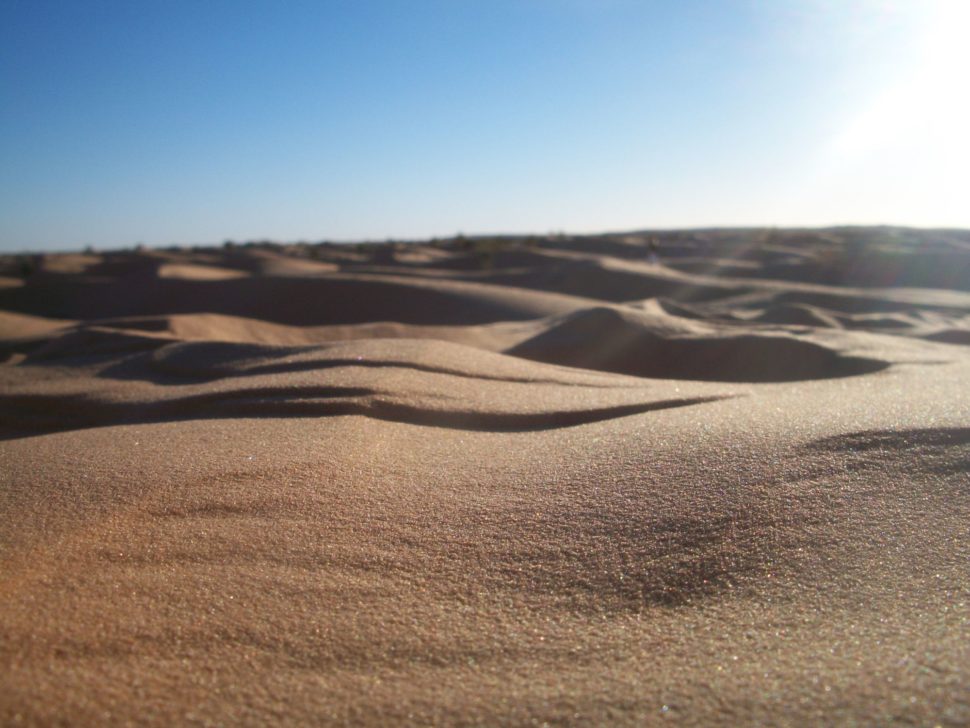 The desert is vast, kind and safe. Here we can be ourselves. There is no one to judge or evaluate us.
The desert is pure; free of lights, noise, media, or any other kind of smog.
The desert is full of life; life that serves as a mirror to everything that happens to us.
A massive deceleration as a contradiction to the rush of everyday life, which brings the opportunity to just relax.
Plenty of space, time, safety, and the support to wander through the deeper and darker parts of your soul.
A wide range of techniques and exercises to help you discover what has remained hidden to you.
Sharing in a council that will intensify and clarify everything you'll go through.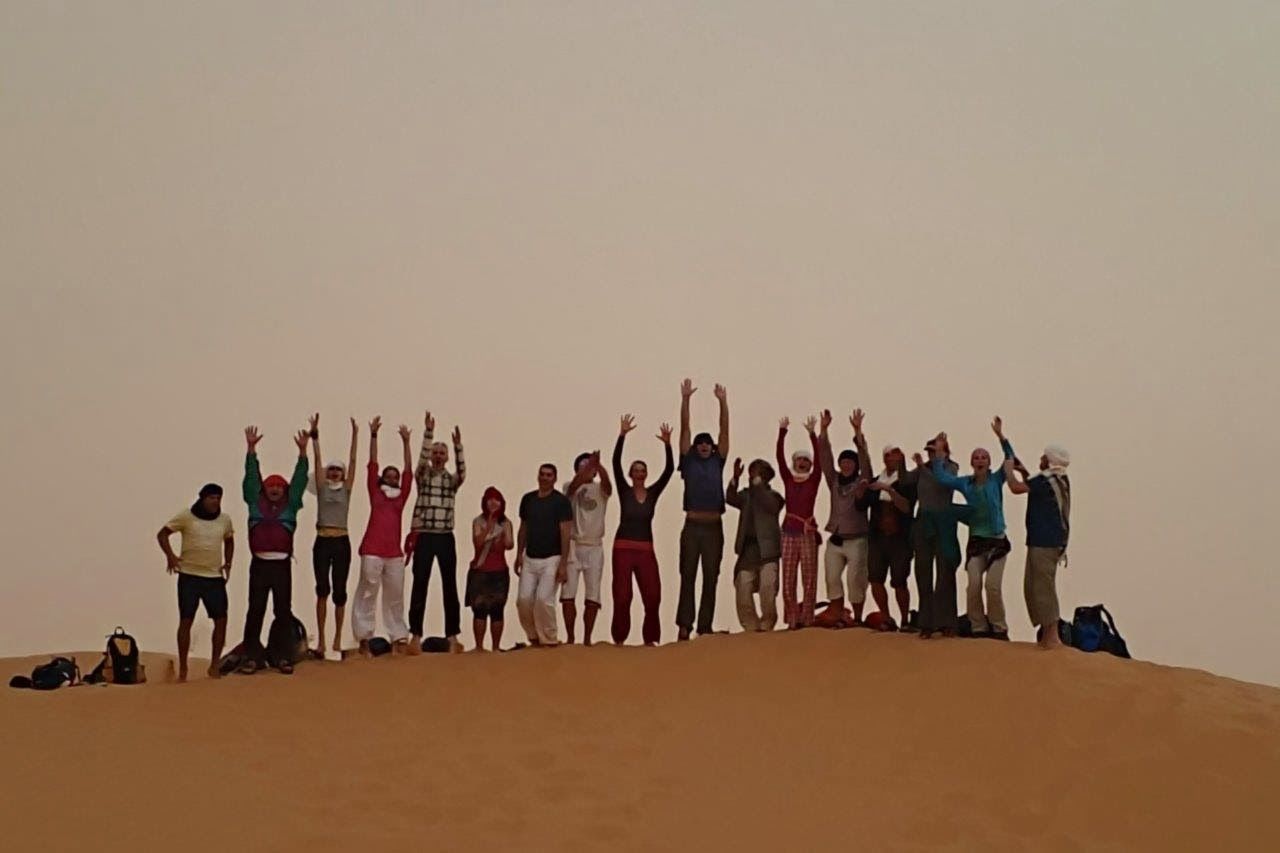 Join us on this pilgrimage if ...
you feel that something important in your life is missing, or something inside you needs a change.
you need to get rid of various roles in your life and be truly free, at least for a while.
you need to put something behind you and honour it so something new can arise and grow.
you are looking for inspiration in your life.

you feel the desert is calling you, even if you don't know why.
If you have the calling, set out for a journey that will change your life forever. The time will come ... in November 2022
We will wander through the desert and sleep under the stars. We will spend our time in solitude and share in council. We will let ourselves be enriched and inspired by nature, the Bedouins, and each other.
We will send you all the practical information about the trip and the necessary equipment after filling in an application form, and if you have any questions don't hesitate to contact us. We'll be happy to talk to you in person and discuss everything that interests you.
Bohdana and Ondřej, your soul guides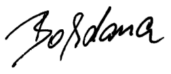 +420 777 481 510
bohdana@souladventure.cz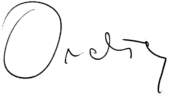 +420 777 481 510
ondrej.cihar@gmail.com
Bohdana Kabátová and Ondřej Čihař will guide the group on November's journey. The combination of these guides offers contrasting male-female dynamics, which bring wisdom and depth as well as playfulness and levity.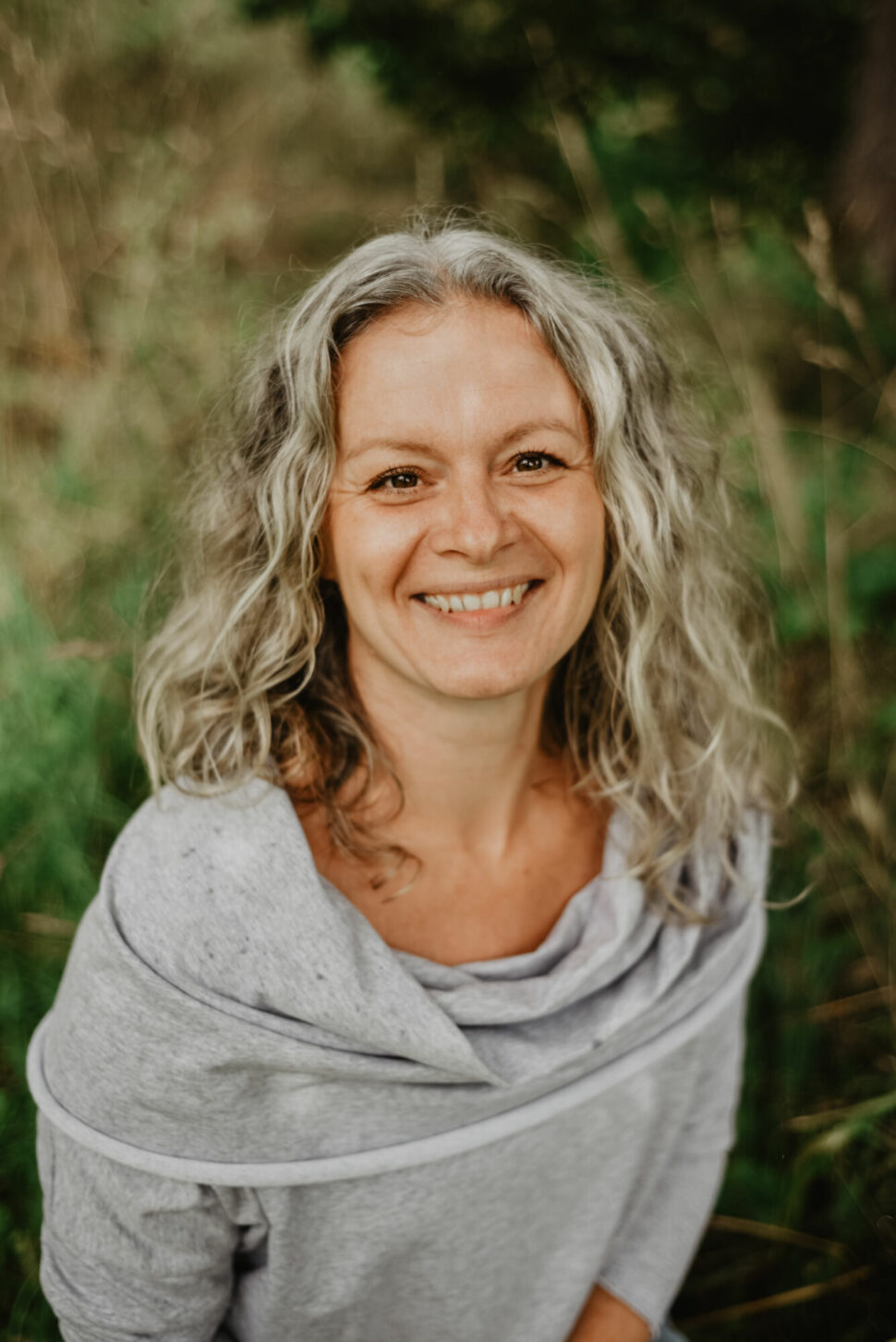 Bohdana Kabátová
I am one of the three founders of SoulAdventure. I was an entrepreneur and an executive for 15 years. Since 2013, I have led self-confidence and leadership seminars and programs for women. I've been guiding Sahara Soul Quests for the last 5 years. I see the pilgrimage through the Sahara as a journey to our souls. It allows us to look deep inside and find the gifts waiting to be picked up. For me, the journey through the Sahara is a marvellous dance and something that has the potential to bring us real understanding, acceptance, awareness, harmony, and inner peace.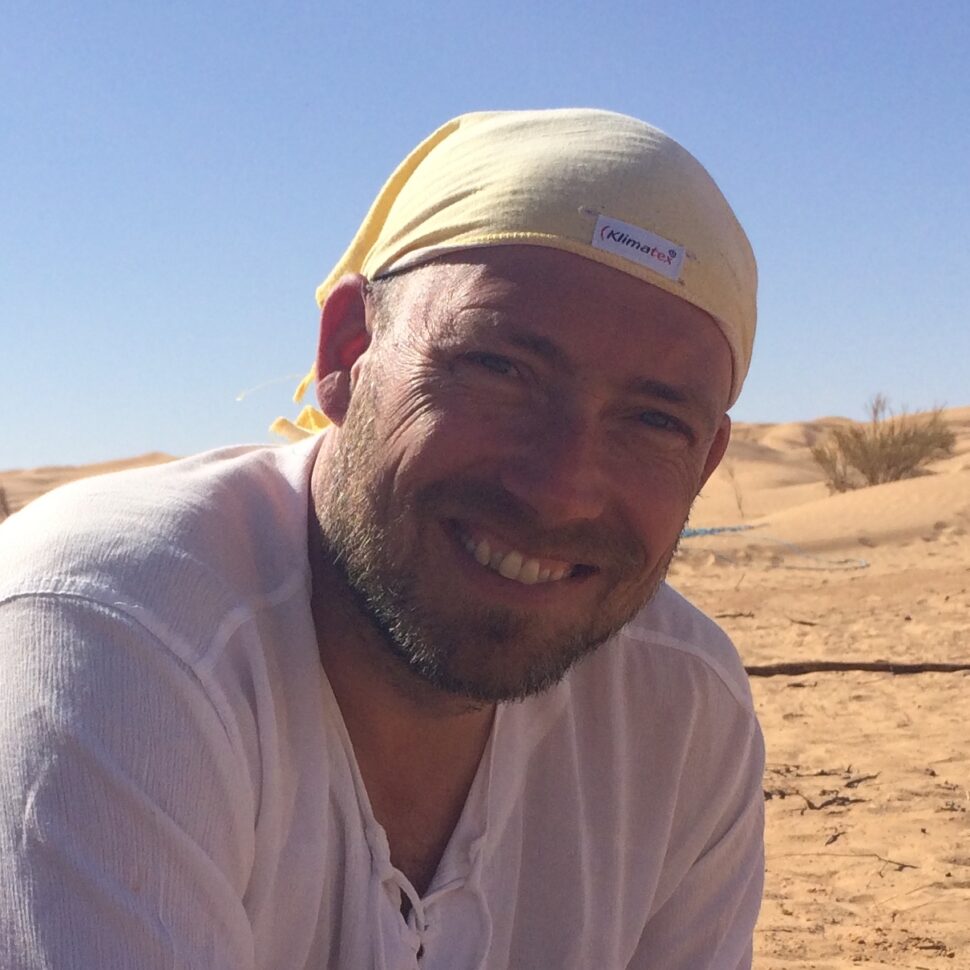 Ondřej Čihař
I have been kicking around corporate marketing for more than 20 years. The topic of personal freedom led me to SoulAdventure a few years ago, where I am now learning to be a soul guide. I've deeply fallen for the vast and magical Sahara Desert. It's a unique and beautiful place where we can be ourselves through and through; where we can act like there is no one to watch us and judge us, because there really is no one there. And yet it's like the whole universe is a witness to everything we explore, go through, and become.
Soul Quest in English 11/2022 - details and application
The exact dates may change (+/- 3 days) depending on flight schedules.
The Sahara Desert, Tunisia
We will travel to the north-eastern part of the Tunisian Sahara. Depending on circumstances, we might spend the first night of our stay in a hotel in Djerba.
Two guides with one or two assistants and our Bedouin guide Ahmed and his companions will travel with the participants.
€1,200 + VAT
+ PLANE TICKET which you buy yourself
+ STAY: €750 *
 
* Price per stay includes Bedouin guides with camels, airport-desert-airport transfer, and meals. Payment is due in cash upon arrival in Djerba.
Are you ready to set out for the desert with us?
We're happy you want to join us for the autumn Soul Quest. Please fill in the application form and we will get back to you as soon as possible.
If you need any more information, please contact us:
What others have said about
Sahara Soul Quest...
There have been dozens of pilgrims with us in the desert over the years, each with their own story. Here are some of them.
"I've brought photos, souvenirs, and memories of exotic places back from my other trips. But I've kept the Sahara Desert in my heart."
"If I were to describe in words what Sahara Soul Quest is about, I wouldn't have to go there. I could have read books and articles about it. It's not enough to say, "Thank you for the information," because it wasn't my mind that learned in the desert. It was my whole system, and that experience is extremely important."
"For me, the Sahara Soul Quest was a journey to myself, a connection with my body, my soul; a journey on which I perceived myself through others and even when it was over, for me, it never actually ended.
"I really cried a lot. In pain, as a victim of how unjust the universe is ... and then, behind all that emptiness, I discovered the Source. It was there all the time...
"I am not physically in the Sahara, my feet are not sinking in the fine sand, I'm not falling asleep with a fear of scorpions, but I'm carrying the Sahara in my heart."
"Every second, every step, every present moment awakened the feminine part of me."
"Today I know that my trip to the Sahara was one of the most important I have ever taken."
"For me, the Sahara Soul Quest is a journey to my soul and with my soul into the unknown. It is like undressing into mental nakedness and accepting this nudity for which I am usually very ashamed."
"The Sahara has shown me many treasures within myself I had not seen or didn't want to see before."
Frequently Asked Questions
How will I wash when there is no water?
There is plenty of water to brush your teeth and wash your face. For everything else, including our bodies, and dishes, we use super-fine sand which is present everywhere.
What's the weather like? Is it hot during the day and cold at night?
We travel to the Sahara on dates when the weather is pleasant. Temperatures are around 25 °C during the day and they usually do not drop below 0 °C at night. We will carefully go through all the necessary equipment with you in person.
How will I sleep?
When the weather is pleasant, we sleep under the stars. If you prefer a higher level of safety or comfort, or in case of rain, it's reasonable to take a tent with you.
What about shoes?
If your feet are used to it, you can walk barefoot most of the time. Trekking sandals with a closed toe are good for coarser and rocky surfaces. In the evening and worse weather conditions, trekking boots come handy. Otherwise it's up to your imagination. From crocs to desert combat boots. We've seen almost everything over the years.
What about scorpions and snakes? I'm afraid of them.
We will travel into the wild and animals are a natural part of it. You will learn to communicate with them. Scorpios are a natural part of our pilgrimages and it's all about learning how to move consciously - to watch where you sit, lie down and so on. We'll teach you. The bite itself is uncomfortable and painful, but mostly not life-threatening. It happens very rarely, though. It happened only twice in more than 20 Soul Quests. We don't see snakes at all.
We are a team of guides with a rich life history and a lot of experience. We offer people support in discovering the secrets of nature and their own psyche. In our base in the Czech Republic , we organize and lead pilgrimages, long-term programs, workshops, and individual sessions.
We have been going to the Sahara and organizing Soul Quests there for 13 years. And we have guided dozens of pilgrims, who set out with us on a journey, to get in touch with their inner truth and their souls.